We are the Isle of Wight's premier target shooting club. It was formed in 1944 from the local Home Guard Company and still thrives today, 70 years on. Our present membership is over 70 strong with male and female members aged from 11 to over 70 years. (

Children under 18

years must be accompanied by a parent or guardian at all

times).
We shoot a variety of disciplines from .22 rim fire through full-bore centre fire to black powder and shotgun. There is an array of silver and other trophies to be won every year. But if you're not the competitive type, you can just shoot for fun.
New members have to be of good character and serve a 3 month probationary period during which time they can use the Club's firearms to practice and compete. As a full member an application can be made to the Police for a firearms certificate so you can purchase and use your own firearms.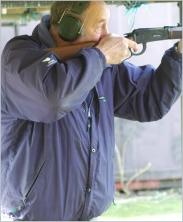 (Founded 1944 by "D" Coy. 19th Bn. Hants. H.G. )

About our Club
The Cost
:
£10 pounds deposit to be paid per application pack and credited towards your membership subscription
when you join the club.
£72 subscription per annum for adults, £35 under 18
years. £2.50 per range meeting at Sainham including 5 targets. (Newtown £20,
Downend £5 plus 10 pence a target fired).
Where we shoot
Sainham

: - We own freehold, a fully Home Office licensed 20/25 yard outdoor range with a covered firing point together with a room to relax in. It is licensed to shoot: .22 Rim fire, pistol calibre rifle, black powder rifle/pistol, air rifle/pistol and shotgun.
This is our regular Wednesday evening venue and we meet here for shooting throughout the year from 17:00 until 19:00 hours approx. and most Sundays from 10:00 hours until 13:00 hours.
Downend

: - Use of a 100 mtr and 25 mtr covered outdoor range for all

disciplines.
Newtown

: - A 300 mtr military range for full-bore centre fire.
Bisley

: - We have occasional trips to the National Shooting Centre's ranges at Bisley.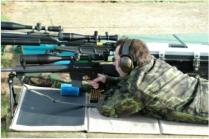 If you wish to join or have a question please contact: